Please come and join us on our fun walk on some of our local tracks – about a 90 minute walk, plus however many stops for the view, snacks, picnic or other fun. Sunday 14 March from 11.00am.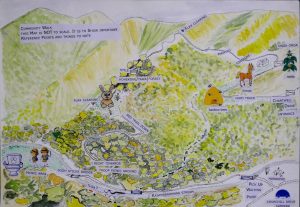 The picture above shows the route, which will be signposted.
We will start from 11.00am at the gate to the horse paddock towards the top of Chartwell Drive – we will be easy to find. Last walkers start 11.30am. The route will take you down through the horse paddock, then up to the northern walkway.
A short walk along the tops then down the red trail to Wilton Bush. A good spot to eat your picnic then out to the Wilton Bush car park at Churchill Drive.
We will have someone there to ferry drivers back to Chartwell Drive if you have a car to pick up.
Things to bring – walking shoes, warm clothes and raincoat (just in case) drink, snacks, and your own picnic.
Remember – this is NOT a dogs off leash area.