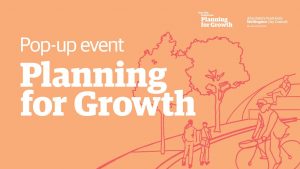 Come and visit the Planning for Growth Pop-up in the Ngaio Library! Monday 31 August from 4 to 7pm at Ngaio Library.
Wellington is growing – we are told that in the next 30 years Wellington will be home to 50,000 to 80,000 more people. This will require some big decisions to ensure that our new population can be housed, supplied with amenities, that they can get around our city, and that the city retains a great feel. The decisions being made now will shape how Wellington grow and the way we live, for decades.
We encourage every one to call into the library to make sure you understand what is happening, and what will be the possible impacts on our suburbs. Then we also encourage you to make a submission, and let the Council know your views.
There will be information, visuals and an opportunity to talk to the team about what the Draft Spatial Plan means for your community.
You can find more information on the Planning for Growth website: https://planningforgrowth.wellington.govt.nz.
There is more information also on the facebook page: https://www.facebook.com/events/2631728140437993.